The Software Process Improvement Network is comprised of individuals dedicated to improving the software engineering practice. Regional groups called "SPINs" meet and share their experiences - initiating and sustaining software process improvement programs.
Management 3.0
When you think of "management", what comes to your mind?
Do you conjure up feelings of anxiousness, wondering if a family vacation you've picked the ideal time for will be approved by your boss? Do you think of work moving through a system, who gets assigned to it, and how that work is brought together? Do you wonder how effective your employees are at their work and what you can do to help them improve? In all of these scenarios it's not just the managers who are doing the management.
Who coordinates the machine, gets people in line, and is that even the right way to approach management? Join us February 19th for a primer on Management 3.0 - what it is and where it came from to help employees in the modern knowledge workplace be happy and successful. A mixture of discussion and interactive exercise, attendees will get some actionable takeaways to put into practice in their own organization.
We will also be holding a drawing for all attendees of this event for a Perspective Mesh High-Back Office Chair, thanks to our hosts National Business Furniture!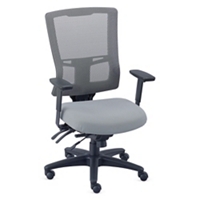 Date and Time
Monday, 02/19/2018
5:30 PM - 6:15 PM Free Food and Networking 6:15 PM - 7:45 PM Presentation 7:45 PM National Business Furniture Chair Giveaway Drawing!
Location
National Business Furniture
770 S 70th St
Milwaukee, WI 53214
Please use the rear entrance. Parking is available on the side and back of the building.
Click
here
for map.
Cost
Free - Thanks to our Sponsors and National Business Furniture
Speaker Bio
:
About Rich Visotcky
It is my mission to help people leverage different perspectives and new approaches to connect with what is truly important in their situation and solve the challenges they are facing. I love to connect people with the principles behind leaner, agile processes and practices so they build elastic skills and adaptable approaches to deal with evolving challenges.

I'm a seasoned agile trainer and coach, Professional Scrum Trainer with Scrum.org, one of two stewards for the Professional Scrum Foundations course, and Management 3.0 facilitator bringing years of experience in helping hundreds of people learn agile concepts and put them into practice in their daily work and lives.